hey guys its time again for another update on my blog
This past weekend, a couple of friends and I drove down to compete in a LAN tournament which they hold every year, and the winning team wins $250. This event was a 2-day BYOC lan, where teams competed for standings in the winner and loser brackets for the first day and the second day consisted of the winner/loser bracket finals and ultimately the grand finals. The game mode was CM and version 6.65. Every game was a Bo3 format. I went with my old former teammate EG.Merc, along with Hilger, EmBRaCE, Hammyton, and FashoBounca. The players are just friends I normally play with on BNet West whom are also my real life friends.
I mainly played carry for my team throughout the entire tournament and reached the winning finals bracket.
The winning finals bracket and the grand finals were the main highlights of this event.
On the 2nd day, when we played against the other team in the winning bracket, the team decided to sub Hammyton out with Merc, giving him a chance to play. We lost the first match, due to some team synergy problems and a bit of underestimation. We ended winning the finals 2-1. My team decided to celebrate this win by eating out.
We returned for the Grand Finals and had to play the same team from the Winner Finals Bracket as they made a comeback from the Loser Finals Bracket. Unfortunately, due to some complaint from their team about substituting Merc for Hammy, we had to keep Hammy for the Grand Finals. (Merc was pretty much benched in real life too :P) They complained saying it wasn't fair having 6 players on the team, because for the sign-ups you can only have 5 on your roster.
Here are a few pictures, and replays of the finals and grand finals of the event!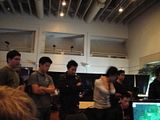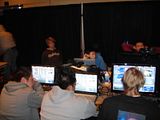 This shirt was made by one of my biggest fans Danika "Danimals" Teo, the front was a picture she drew of one of my favorite heroes Terrorblade in pink!
Game 2 of Finals 1-1
Game 3 of Finals 2-1
Game 1 Grand Finals 1-1(Winner Bracket Lead)
Game 2 Grand Finals 1-2